All Cleaners are Bonded & Insured
Easy Online Booking
Certified Professional Cleaners
Trained with a 58 point checklist
Custom Cleaning services
All supplies included
100% Satisfaction Guarantee
ECO friendly/green products available
100% Reliable Cleaning Services
Affordable prices
Background & referenced Checked
Daily, weekly, bi-weekly, or monthly cleaning available
Eco-friendly/Green product options available
Background checked cleaners

Air bnb and Vacation rental
Sanitizing and disinfectant
Special events and parties
24 Hour Guarantee
At The Whitney Way, we are happy when you are happy and we strive for your complete satisfaction. If you're ever not completely satisfied with a cleaning service we performed, don't hesitate to notify our office within 24 hours and we'll gladly return at no extra charge and reclean the troubled area(s).
We're committed to your satisfaction!
TESTIMONIALS
Whitney and her team did an excellent job. I am currently 38 weeks pregnant and deep cleaning is not remotely possible it's a godsend to have reliable help that does the job and gets the job done right. Every single problem area that I had was spotless without even having to mention it. Wonderful work.
Shyd and Jessica Coloma
2022-09-07
Whitney Way Cleaning does an amazing job with our AirBnB turnovers. Quite a few of our reviews specifically mention how clean our place is! As a business, they're prompt, thorough, and efficient. They send after-clean photos/videos, let us know if there is damaged or missing items, and make running an AirBnB out-of-state that much easier. If there are any changes we request after a clean, Whitney and her team have been great to accommodate. The Whitney Way Cleaning has been an awesome and essential part of our team, and we would recommend their business to any host looking to have a clean and inviting AirBnB space!
Whitney and her crews came through on relatively short notice to complete over 20 move-out deep cleans of our rental properties. We have a very high standard, and Whitney made sure that standard was met and her teams were held to account. Thanks, Whitney! Keep your schedule open for us next year!
Alexandra Forest
2022-08-06
Service was impeccable and impressive. My tenant moved after 4 months and the mess left over was as if she lived there more than a year. Whitney was responsive and clean the whole place better than expected. Will be reaching out soon to clean my basement
Whitney was/is perfect ! She's so patient and thorough, made my cleaning experience with her quick , easy and most importantly comfortable in my own mess. We decluttered an entire room in under 1 hour! Bathrooms? SPOTLESS when I say spotless that's what I mean! I'll definitely be using her services again! Thanks again Whitney ??
Christine Holt
2022-07-09
Whitney and her cleaning crew have completed many cleanings at my AirBNB. I've consistently received positive comments from my guests about how clean the place is. She is very professional in all her communications and responsive to feedback. A couple of times she has caught and informed me of issues at the house that could have turned into bigger problems so I was very grateful for that (found leak under the sink and in the basement). I'm so happy I found Whitney and that I have peace of mind knowing I can trust her in my home and to do a thorough job.
Ronn & Danielle Stewart
2022-03-30
The Whitney Way is a great cleaning service. Whitney responded to my initial request within 24 hours and continued to communicate with me throughout the week leading up to the day of service. Her and her staff were on time and stayed until the job was complete - including some elbow grease needed in one area. I highly recommend her service and encourage you to entrust her for a Move Out Clean. I intend to use her services for my new home as well.
Katherine Meadows
2022-03-07
We hired them three months ago to clean our Airbnb and we could not be more pleased. They are always punctual, responsive to requests, and the quality of their cleanings are absolutely fantastic.
MzFight Diva40
2022-01-11
I couldn't be more impressed with the quality of work. It was certainly not a fun job that I needed done but the work was beyond my expectations. Everything was so clean and fresh I almost thought I was somewhere else. Whitney Way, LLC came through for me in a big way. Five stars.

Established in 2018, The Whitney Way was created out of a desire to bring high quality cleaning and unmatched work ethic paired with exceptional customer service to homes and businesses in Columbus, Ohio. The Whitney Way means making your needs a priority, being reliable, and treating every customer and every cleaning assignment with care, honesty, and integrity.
Our goal is to save you time and alleviate stress by taking exquisite care of all your cleaning and sanitizing needs. When your environment is clean, tidy, and disinfected, you have the energy and peace of mind to make your business and home thrive.
We aim to transform every space we clean with our passion and experience on thoroughly cleaning done right the first time. We look forward to being of benefit and service to you.
ABOUT THE WHITNEY WAY


Electrostatic Disinfection
Electrostatic sprayers are an effective way of killing germs. The way the spray wraps around and coats surfaces, it's possible to disinfect areas that no other method can reach. This creates a more even and complete coat of disinfectant, helping to kill any pathogens on the surface.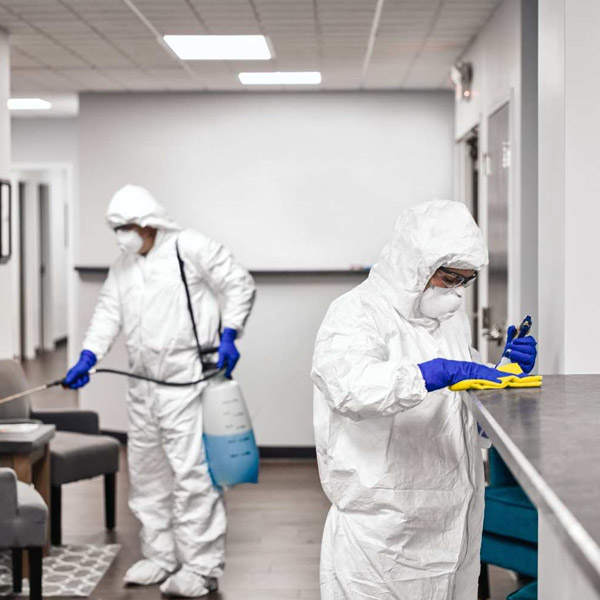 ORGANIZING
With a fast passed home and work life we know how quickly your home or apartment can get cluttered up. Our professional organizers are on the job when you need help with storing items, turning clutter to clean, and making the most effective use of your space.

LOYALTY PROGRAM
We are grateful to you for being our client. That's why we decided to give back to you. The Whitney Way has created an exciting and rewarding loyalty program to honor you. Thanks once again for letting us be part of your life.
RECURRENT CLEANING
We know how busy your life gets. The last thing that you want to have to worry about is getting your home or business cleaned. Services is happy to set up recurrent services so you'll never miss a cleaning appointment.
REFERRAL PROGRAM
At Services, one of our goals is to give you such a great cleaning experience that you'll want to tell your friends and business associates about us. We're so convinced that we'll be able to deliver on our promise that we're offering you a formal referral program to give back when you recommend our cleaning services to others.
BOOKING, RE-SCHEDULING AND CANCELING

Just a Click Away!

With one click you can schedule a walk through appointment for an estimate. You will then receive a bid and upon accepting, services can be started at a time you request.
Get Automated Email
Notifications & SMS Updates

Living in Columbus can be busy and sometimes a little hectic. That is why we send you a notification via email and SMS to keep you updated about when your cleaner will arrive and how long the service will take. That way, you can place your energy and attention on other matters while we make your space shine.
THREE EASY STEPS TO BOOK YOUR
CLEANING WITH SERVICES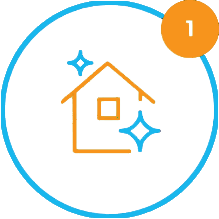 Choose Your
Cleaning Service
Let us know what do you
need cleaned
Schedule A Walk
Thru Appointment.
A quick and easy walkthrough will give us and your company a thorough view of the areas that will be cleaned, create a checklist of needs, special request and preferences and finish with an estimate/bid for services..
Inhale Clean,
Exhale Stress
You can relax and feel confident knowing we are transcending all of your cleaning needs.
BOOK NOW
Do you have questions, We have answers, Call is now and we will return your call within 24 hours
Sign up to receive  our promotions,
health tips, specials, news and more!
To know more about how we keep your data safe, refer to our Privacy Policy.